25 Best Foodie Moms Bloggers & Websites to Follow
Mothers all over the world have a lot on your plates. And when you have to prepare meals for your family on a daily basis—from filling everyone's bellies before work and school, packing lunch boxes, and putting a meal on the table at night—it can seem like an unrewarding slugfest. The same old meal lineup can get boring after a while, and discovering meals that the kids will eat but will not bore the adults can be difficult. Luckily for all of us, a slew of moms have started blogs with fantastic recipes that seriously inspire us to get cooking and feed our families in wholesome, creative ways.
Are you a mom who blogs about food? We're looking for passionate foodie moms who share kid-friendly recipes, grown up snack ideas, meal planning advice, baking tricks and all things food related.
Manila Spoon
A former lawyer turned stay-at-home mom shares her tried and tested home-style dishes from the Philippines and Asia, America, Europe and Africa. Easy and simple recipes that everyone in the family can enjoy! Our family love to enjoy occasional sweet treats. One of the recipes that I made very successfully with my little ones are these perfectly Spiced Molasses Cookies which we made over the holidays. They lent Mommy an extra hand in making the dough balls and then helped roll them into sugar for some extra sweet coating. We had such a fabulous time making it. Here's the recipe if you wish to check it out. It's a recipe that kids can truly enjoy participating in.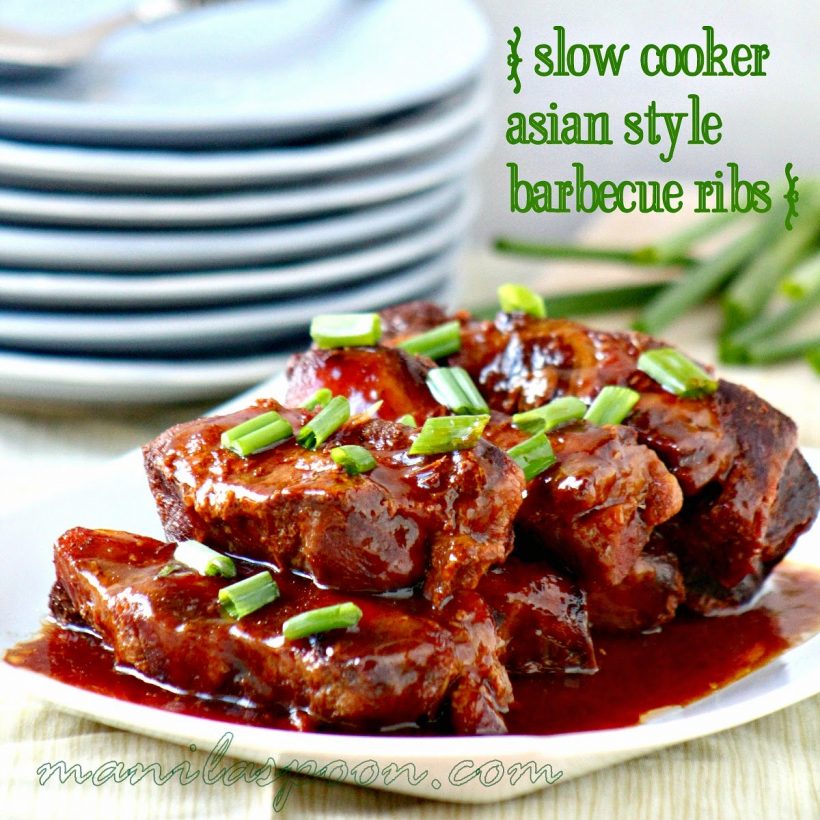 Sugar Free Mom
I share my healthy, unrefined, naturally sugar- free recipes for the whole family (picky eaters too!). My boys have nut allergies + I have a dairy intolerance, BUT flavor is never sacrificed! I'm a homeschooling mom of 3, clean eater. The kids love to make smoothies which are super simple and everyone can customize their own to their liking. One of their favorites though is a Strawberry Coconut Protein Smoothie! Only 4 ingredients, added natural protein, no added sugar and dairy free.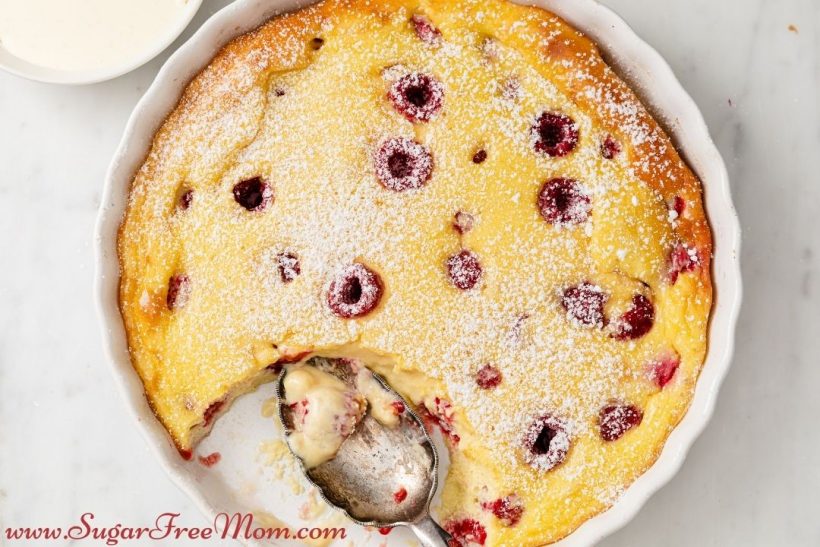 CAFE (Celiac and Allergy Friendly Epicurean)
Join me on a journey through culinary school and life, managing celiac and food allergies and still maintaining a love for food! We make homemade waffles almost every morning. The kids always help me put in the ingredients and mix the batter.
4. the full plate blog / meals in a snap
fullplatecookinglessons.blogspot.com
Simple, healthy, family-friendly recipes… so busy parents can nourish their families (and themselves!) with fabulous meals. Written by Eila Johnson, a happy, healthy mom of two young children.
Family Fresh Meals
Corey is a wife and proud mother of two wonderful children. Her passion for photography and food fueled the creation of her site, Family Fresh Meals. There she enjoys sharing homemade recipes the whole family can enjoy. One of the first recipes I taught my kids to make was homemade pizzas. We love making those weekly as a family! For special occasions, I love to make baked donuts. They taste just as good as the real thing, but are healthier. Once a month I make baked donuts for my family, and they are always a huge hit!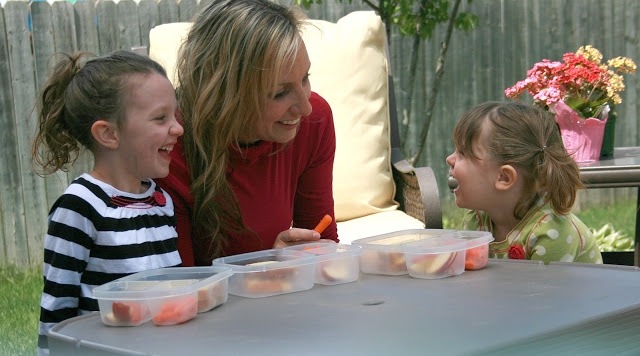 The Baker's Mann
I'm a busy mom who likes to cook and exchange recipes with friends. I'm no chef (I follow recipes) and want to share some of my favorites – and try yours too! Let's create a place to swap recipes so we're not all making our same 5. We enjoy baking together like banana bread or coffee cake. Both are easy, lots of opportunities to divide up the measuring and mixing, it makes the house smell good while baking, and of course, the best part is eating it together (especially taking a sample bite after it comes out of the oven)!!
Full Belly Sisters
Justine and Flannery are sisters who share a passion for women's health. The Full Belly Sisters blog offers useful tools so that you can be healthy and informed while you're pregnant, breastfeeding, or just striving for balance. One of my son's favorite recipes is one that he created himself: peas with dried cranberries, extra virgin olive oil and a pinch of salt. Do I want to eat this? No, not really. But my son loves this dish—probably i great part because he "created" it—and I'm happy that he's made a real food recipe that satisfies his soul. I think it's important that we let our children discover what tastes good to them (even if it's not something we want to eat!)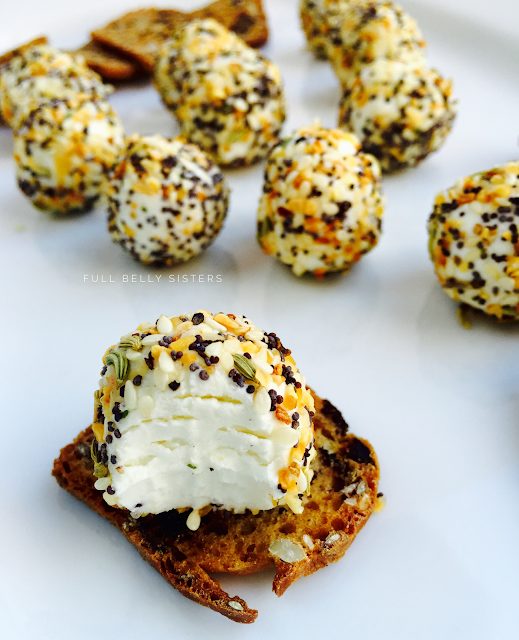 My Judy the Foodie
From kitchen-clueless to comfortable cook, one daughter's journey through memories and meals. I'm cooking my way through my mom's treasured recipes, sharing anecdotes about family mealtime (and life) along the way. One of my first recipes I taught my kids to make is my mom's famous Banana Chocolate Chip Bread. It's very easy to make and my kids love baking. There isn't a month that goes by without us making at least two loaves— one to freeze and one to eat right away!
Modern Family Cooking
http://modernfamilycooking.com
1 French Culinary Institute top award winning graduate, former private chef, and caterer vs. the toughest customers in the business – her toddlers. Granola – I had them put oats and finely chopped nuts on the baking sheet, help measure out the maple syrup, oil and flavorings, pour that on the tray and let them get messy mixing it all together. Today they polished off almost an entire batch of a banana bread granola recipe I am experimenting with.

Dos Gatos Kitchen – A culinary adventure blog
http://dosgatoskitchen.com
I am Yulia, a mother of 2 wonderful girls, a foodie and a food blogger and an IT Project Manager. I have been blogging for more than three years for various audiences. My kitchen combines lots of techniques and ingredients. I'm not sure it could be called "taught" 🙂 My elder daughter helps me in the kitchen since she's 2. The first thing she prepared on her own is my special pumpkin pie filling – she was about 2.5 by then. By now she helps me with yeast dough, any kind of whisking to be done and cutting vegetables for the soup.
What Vegan Kids Eat
Healthy, easy and delicious recipes that even a child can make. My son and I created this blog to help other families with Vegan meals. Also included are many allergy-free recipes. Loads of photos and how-to's. Come check it out. For my son, it was Tofu Frittata. He loved it and made it several times before thinking outside the box and making it into muffins, hash browns and many other varieties of breakfast goodies. For my daughter, it was most likely a PB&J.; She is not too interested in cooking or baking and prefers to sit back and watch her little brother come up with the latest creations in the kitchen.

Skinny Kitchen
Each week on Skinny Kitchen, I share skinny recipes, cooking and kitchen tips, food finds, nutrition facts and Weight Watchers points on every recipe. I love testing all recipes on my husband and kids. I taught my sons early on to have fun in the kitchen. One of the easiest recipes they started with was Stuffed Pepperoni Pizza Melt. Each melt has 215 calories, 8 grams of fat and 6 Weight Watchers POINTS PLUS. The whole family will enjoy it!

Love Bakes Good Cakes
We're a blog that is focused on sharing recipes that are family-friendly, budget-friendly and cook-friendly My family enjoys different kinds of pancakes with a side of sausage or bacon and usually some sort of fruit. It's easy, but they really enjoy it! Smoothies! 🙂 There are literally hundreds and hundreds of ways to make them and they are easy to customize! They are so quick and easy …. and full of good for you stuff – what's not to like?!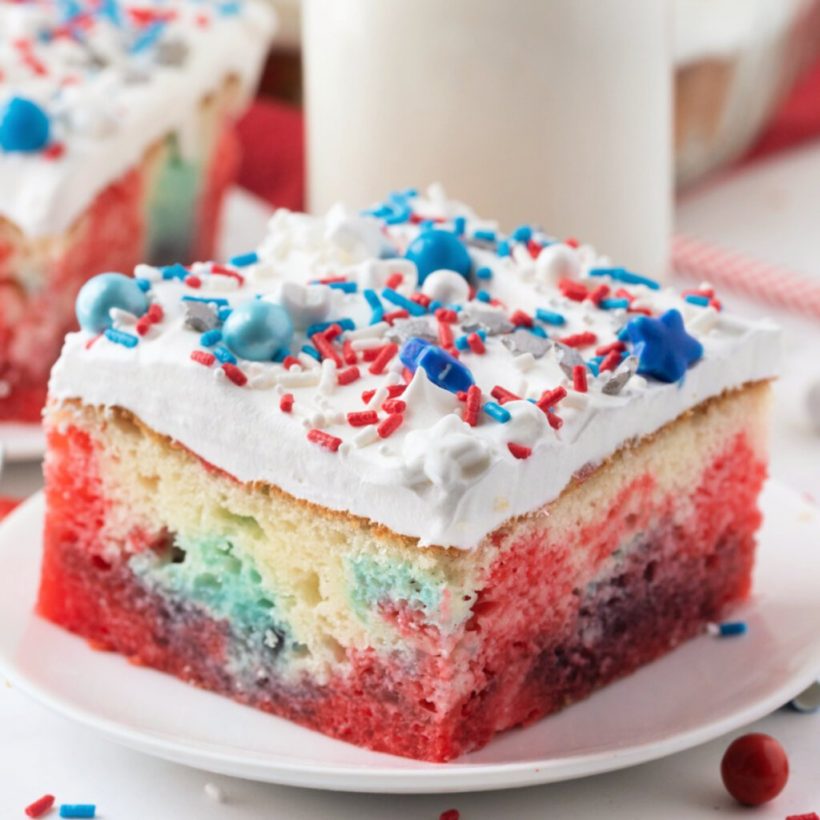 Food and Whine
http://www.foodwhine.com
Megan prepares food for two whining boys, a baby girl, and a hungry husband. This blog has great tips on meal planning and is full of healthy recipes to please even the pickiest eaters. I make pancakes almost every Saturday morning, just like my dad used to when I was a kid, so that was one of the first recipes I taught to my kids. My boys love to help me mix the batter, and they're working on mastering cracking eggs. Sure, I end up scooping egg shells out of the batter a lot, but that's how they learn.
MommiFried
http://mommifried.com
I started MommiFried as an outlet for my creative writing and to share my later-in-motherhood experiences with all women and parents. Just published The Mother of All Meltdowns, which pretty much sums up my life. I love having the entire family together under one roof and cooking up a storm. I also love our sleepover weekends when the grown kids come home and we spend the weekend watching movies, eating pizza, and being goofy. I now have two under the age of two. It's demanding, it's crazy, it's motherhood. I'm just glad I was able to publish my book "The Mother of All Meltdowns" (along with 29 fellow bloggers) before the baby was born. I'm still trying to find my groove – balancing work, blogging, being a mom, etc.
Hun… What's for Dinner?
http://hunwhatsfordinner.blogspot.ca
I married a Chef, not knowing I'd be in charge of cooking 95% of the meals, in our house. Join me in my adventures, to feed my family healthy and nutritious meals, that even a Chef would love. My kids are still young, but they love to help in the kitchen. They enjoy helping shape meatballs and baking cookies and muffins. They've recently started making their own PB&J; sandwiches for lunch, which brings a smile to my face, anytime I watch!
The Way to His Heart
I've always loved fun, pretty food, but now that I'm a mother I try to really drive that home. If you make it pretty, they'll eat it! Who wouldn't? Most of my recipes can be served on a weeknight or for entertaining. My daughter is 3, but she has been in the kitchen with me since day one. While she doesn't know a particular recipe, she knows and recognizes all of the ingredients! I'd say muffins and ice cream are her favorite to make with these Banana Blueberry Muffins being her favorite.

What's for Lunch at Our House
Originally just a way to get a pokey preschooler to eat quickly, my blog has chronicled the last (almost) six years of our lunch journey, with fun foods, recipes, and lunch ideas for the busy mom! We started with the typical basics–sandwiches, cereal, things that did not involve the stove. The first recipe they ever made on their own was a meatball minestrone soup we found in a kids' cookbook. My oldest is going on 11 now and can pretty much make anything as long as she has a recipe. Since it's summertime, we're on a fruit salad kick–sliced fresh fruits, a bit of orange juice to help preserve it, cinnamon, vanilla, and some yogurt or whipped cream.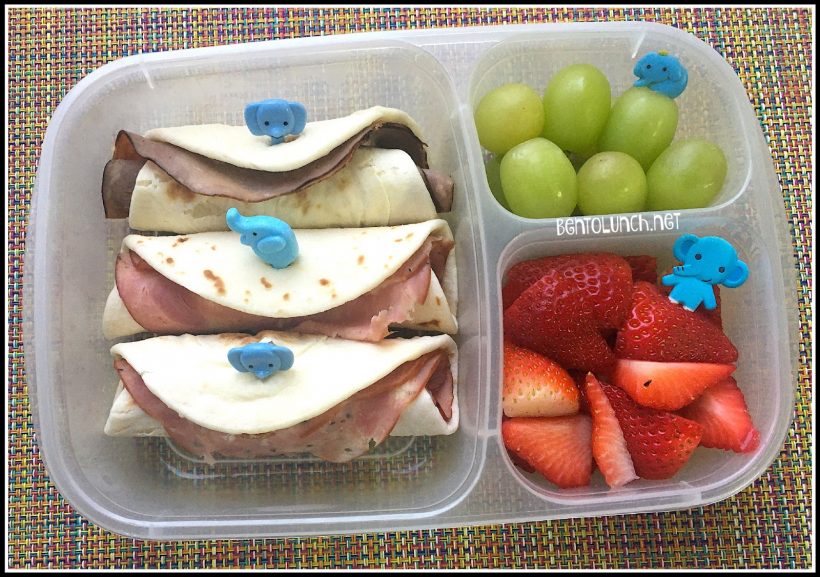 Gluten Free Pantry
As a mother of two young kids, I strive to feed my family healthy food without sacrificing flavor or taste. I discovered my passion for gluten-free and paleo cooking after my French husband was diagnosed with Celiac Disease. I have always made smoothies with my kids. Kids of all ages love to add a wide variety of ingredients to the blender, give it a whirl and then enjoy a delicious drink in just minutes! One of our family's favorite smoothie/shakes is a Dairy-Free Raspberry Milkshake . A great breakfast we enjoy on special occasions or lazy weekend mornings is homemade gluten-free blueberry pancakes, real bacon and an omelet brimming with fresh vegetables. It is a hearty breakfast that everyone in the family loves and satisfies my growing kids' appetite and protein needs!
 Smart Eating for Kids
http://www.smarteatingforkids.com
We are 8 moms — 4 dietitians, a chef, a life coach, an OT and more — helping families to develop healthy habits by sharing yummy nutrition, family fitness ideas and strategies to manage picky palates and other obstacles. We love to help kids feel empowered to make their own healthy choices. One way to do that is to offer them lots of healthy variety, in a way that feels special and exciting. Breakfast is no exception, especially one that is celebrating a special occasion!
Robot Squirrel and the Monkeys
robotsquirrelandthemonkeys.blogspot.com
My goal is to make food fun enough to eat. That's right kids go ahead and play with your food. Through our exploration of bento style lunches our 2 little monkeys are eating healthier school lunches. The first recipe my kids learned was spaghetti, a weekly request in our house. They had to wear oven mitts which protected them up to the elbows, and waited patiently for me to hand them each ingredient in turn. We have an electric stove so there were no open flames, but we were very careful around the very hot pot and pan. They did fantastic! Not only was it cooked to perfection but they appreciated (and ate) their dinner and felt quite proud of themselves for making it.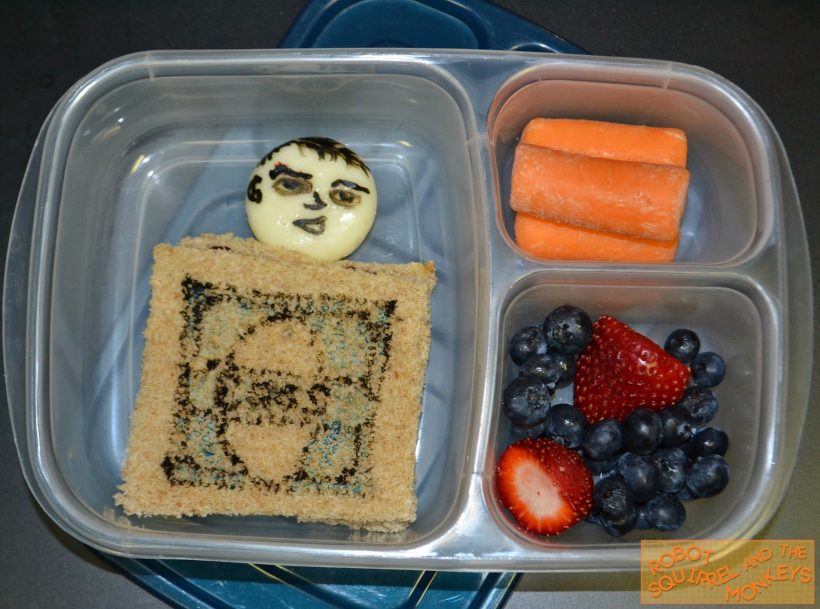 Bentoriffic
http://bentoriffic.com
I blog weekly about my family's waste free, plant based, bento lunches. I use creativity and color to find new ways to introduce vegetables, fruits and alternative protein sources to your family. My children are toddlers so they like tiny sandwiches, pieces of fruit and hummus and guacamole for quick dipping. I recently made these EasyLunchBoxes snack containers for a trip to the pool for the afternoon. Quick bites of protein and fresh fruit are what I choose to keep them happy. I use a lot of mini cookie cutters to make things bite sized. I also like colorful silicone cups and small picks to hold things in place & make the presentation exciting for them so they'll try new things.
More Than Your Average Mom
Sarah is the busy full time working wife, and mom to two behind More Than Your Average Mom. Her blog chronicles her heavily caffeinated (mis)adventures in mommyhood, creative bento making, culinary capers, DIY crafts, reviews and more. There are so many amazing things about raising a family in Canada that it's very difficult to pick just one. The amazing diverse cultures, the beautiful landscapes and scenery, and the seemingly endless opportunities, but for me, hands down the best part is our health care system. Our health care system takes a lot of flack, but as a mom to a child who was born with a life threatening illness, I can speak first hand to how great it has been for us.
Natural and Free
http://naturalandfree.blogspot.com
A blog that provides allergy-friendly recipes and helpful information for those who suffer from or care for those suffering from one to all of the top 8 allergens. Probably the first recipe of any sort that I taught them to make was PB&Js.; If you mean the first recipe involving a stove, then scrambled eggs. Surprisingly, the eggs didn't turn out crunchy! 🙂
Bentos on the Bayou
http://www.bentosonthebayou.com
Creating healthy and fun bento lunches for my two children is my passion. My blog is a place to share that passion with you. We are a peanut and tree nut allergy family, so all of the lunches on my blog are free of those allergens. My son is just now getting to the helping stage, so he really just helps with stirring, pouring, etc. His current specialty is "homemade water."  My daughter cooks with me often. It is an incredible joy to share the kitchen with her. Pancakes was the first thing she learned how to make, but my husband was the one that taught her. I think stir fry was probably the first thing I personally taught her how to make. Now at 12 years old, she not only assists me with much of my cooking, but she is an expert breakfast chef and makes the best pumpkin pie you've ever had!  My family created a bi-monthly cooking "show" we do at home called Gourmet Gladiators. My husband purchases mystery ingredients for each of 3 courses. My daughter and I are the chefs. He presents the ingredients to us at the beginning of each round, and we must use all of them in our cooking. We have access to everything else in the kitchen, too. This fun family tradition has afforded us much creativity in the kitchen, many special memories, and lots of new recipes that we continue to make.